We're getting married - participate on Youtube!
Datum: SATURDAY APRIL 4, 2020
Plats: AT THE JOHN PAUL II PASTORAL CENTRE, STOCKHOLM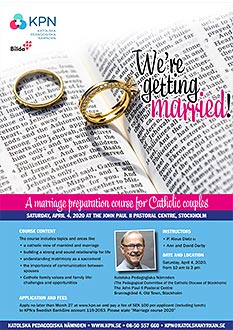 Due to the circumstances with the coronavirus, the course will take place online!
Further information will be given to all participants who have registered below.
https://www.youtube.com/watch?v=TAeqAorJ1Qs&feature=youtu.be
The course includes topics and areas like
• a catholic view of mankind and marriage
• building a strong and sound relationship for life
• understanding matrimony as a sacrament
• the importance of communication between
spouses
• Catholic family values and family life:
challenges and opportunities
APPLICATION AND FEES
Apply no later than March 27 at www.kpn.se and pay a fee of SEK 100 per applicant
to KPN:s Swedish BankGiro account 119-2053. Please state "Marriage course 2020"


Extra information: please inform us about the name of your future husband/wife!
To print out the poster, press here